| | |
| --- | --- |
| | Extension 100 years |
Annie Peters Hunter, an Extension pioneer
Annie Peters Hunter, an Extension pioneer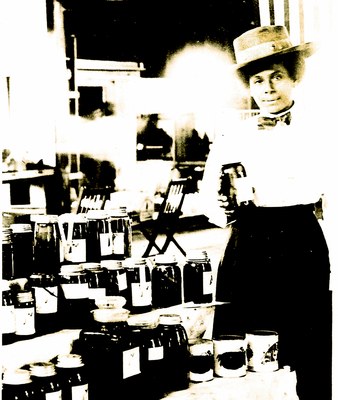 Not much is known about Annie Peters Hunter, a native Alabaman who settled in Boley, Okla., with her husband in the early 1900s. But what is known is pretty significant.
Peters Hunter was the first federally appointed black home demonstration agent. More than two full years before the Smith-Lever Act formally created the national Cooperative Extension Service in 1914, she was putting the organization's mission into action in Oklahoma.
"Annie undoubtedly was a leader with vision and dedication. With being the first to hold a newly created position comes many responsibilities, one of which is to demonstrate the work is necessary and beneficial," said Tanya Finchum, professor and oral history librarian at Oklahoma State University. "Annie was an agent for more than 12 years, and when she vacated the position, it was immediately filled so the work she had begun would continue. That's part of Annie's legacy as an Extension worker."
Finchum partnered with Jan Scholl, an associate professor at Pennsylvania State University, to write and publish an article about Peters Hunter in the e-journal "Forum for Family and Consumer Issues."
According to Finchum and Scholl, Peters Hunter was appointed January 23, 1912, as part of an effort to bolster the prosperity of black farm families. Not too unlike today's Extension educators, early home demonstration agents were charged with helping families to conserve resources, create a little income, and safely raise and preserve food for survival from growing season to growing season.
Primarily operating in Seminole and Okfuskee counties, she served as the only black home demonstration agent within a 50-mile radius.
Specific details of Peters Hunter's Extension work are scarce. However, the researchers discovered part of her efforts included working with girls through canning clubs. There also is strong evidence her canning instructions remained popular through the 1940s and were used in homes, churches and schools.