| | |
| --- | --- |
| | Extension 100 years |
OSU Cooperative Extension celebrates 100 years of service with historic whistle stop reenactment
OSU Cooperative Extension celebrates 100 years of service with historic whistle stop reenactment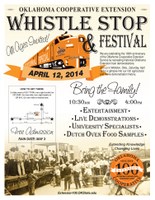 By Donald Stotts

Oklahoma experienced a blast from the past with a modern twist April 12 as the Oklahoma Cooperative Extension Service hosted its Centennial Whistle Stop and Festival in celebration of Extension's 100th birthday.

Approximately 1,200 people attended the event that featured historical reenactments, hands-on exhibits, educational programs, food and music, all of which took place at the Rock N Rail Yard, located off historic Route 66 east of Wellston.

"In the early 1900s, trains were the modern way to travel and early Extension agents were allowed to 'ride the rails,' going from town to town presenting demonstrations and showing people how they might improve the quality of their lives by making use of the latest science-proven advances, practices and products," said James Trapp, associate director, Oklahoma Cooperative Extension Service.

A train coming into town was sometimes referred to as a "county fair on wheels," and such was the case on April 12.

Activities included Dutch oven food demonstrations and food sampling, as well as exhibit booths, many of them hands-on, featuring a glimpse into historic Oklahoma aspects such as vintage children's games, the life of an Extension agent in 1938, antique tractors and vintage canning, to modern-day science-based educational programs such as the Oklahoma Mesonet weather monitoring system, computer-based farm and ranch risk management, key agricultural practices that strengthen the state economy while also promoting environmental stewardship, raised-bed gardening, youth archery and all-terrain vehicle use and safety, among others.

State of Oklahoma dignitaries and other pre-selected guests arrived by train at different times throughout the day.

"Extension's mission is as vital today as ever, and a constant during the past 100 years is that our successes are measured in large part by the successes of those we serve," said Trapp. "The Whistle Stop and Festival was a fun way for us to highlight that fact while providing – as Extension always does – some key educational programs for participants. I have heard nothing but positive comments regarding the event."

Oklahoma State University Cooperative Extension personnel average 1.6 million total contacts with Oklahomans annually. More than 25 percent of those contacts are with identifiable minority populations. Approximately 430,000 contacts annually are with farmers and ranchers.

OCES programs encompass agriculture, the family and consumer sciences, community and economic development, environmental stewardship, natural resource management, local government education and Oklahoma 4-H youth development.

OSU Cooperative Extension personnel provide direct, in-person educational experiences to Oklahomans annually equivalent to more than 800 college classes.