| | |
| --- | --- |
| | Extension 100 years |
Photo of the Week
This Week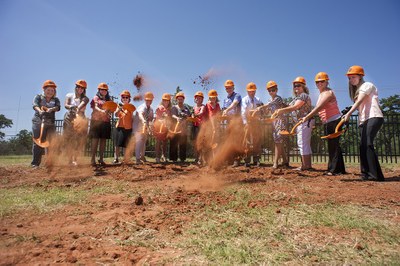 Even as Extension wraps up its year-long centennial celebration, we've already taken a running start at making sure we're well equipped to serve Oklahomans of all ages for another 100 years. Extension personnel in Oklahoma County happily participated in the July 7 groundbreaking ceremony for a new office set to open in February 2015. Plans also are underway for a new training facility on the same campus. (Photo courtesy of Todd Johnson)
Previous Weeks' Photos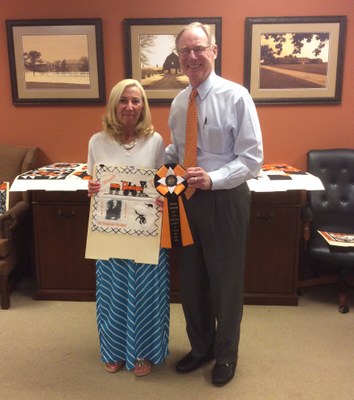 As part of a year-long celebration of its 100th anniversary, the Oklahoma Cooperative Extension Service sponsored a quilt block challenge. Noble County's Barbara Cook, pictured with OSU President Burns Hargis, displays her entry and the ribbon she earned as the winner of the President's Choice award. She also claimed first place for outstanding originality, third place in the machine appliqued category and honorable mention for outstanding creativity. Out of 152 original entries, 42 blocks, including Barbara's submission, were used to create the official centennial quilt. (Photo courtesy of Todd Johnson)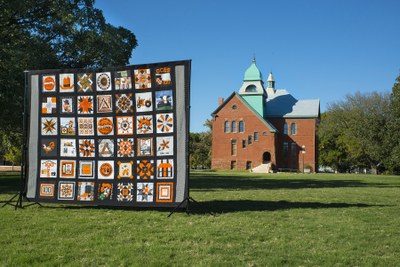 As part of a year-long celebration of its 100th anniversary, the Oklahoma Cooperative Extension Service sponsored a quilt block challenge. Out of 152 hand-crafted entries, 42 blocks were chosen to create the beautiful official centennial quilt. The quilt and blocks were shown at various venues across the state with plans for permanent display in OSU's Agricultural Hall. (Photo courtesy of Todd Johnson)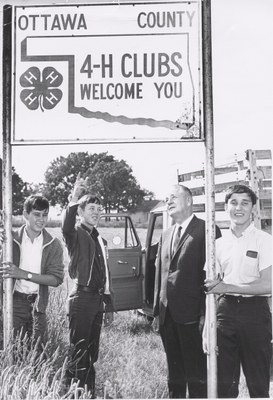 In this 1960s era photo, Richard Schubert, Randy Gardner, Mayor Wayne Pack and Alvin Krumley admire new 4-H signs posted at each end of the county. (Photo courtesy of Ottawa County Extension)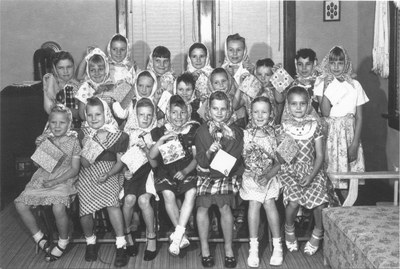 First-year Murray County 4-H members in 1950 show off their newly acquired sewing skills by modeling their headscarves and potholders. (Photo courtesy of Murray County Extension)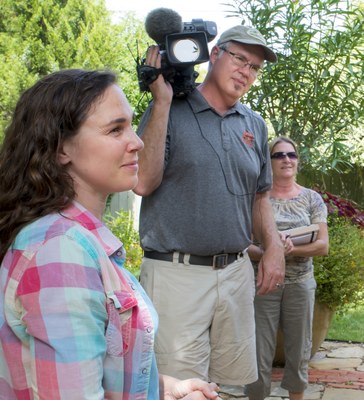 Oklahoma Gardening is one of two weekly television shows produced by Extension. A popular mainstay on OETA-TV since 1975, OKG focuses on topics relating to gardening, lawn care and landscaping design and maintenance. Some of the half-hour show's segments are shot from its studio garden at The Botanic Garden at OSU. OKG airs Saturdays at 11 a.m. and Sundays at 3:30 pm on OETA-TV or visitwww.oklahomagardening.okstate.edu. (Photo courtesy of Todd Johnson)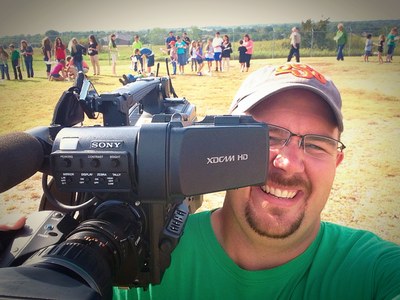 For Oklahoma agriculture producers and industry leaders looking for the latest research, updates on current crops and insights on issues that matter most to them, SUNUP is the source. The popular, award-winning, half-hour television show is one of two weekly shows produced by Extension. SUNUP airs on Saturdays at 7:30 a.m. and Sundays at 6 a.m. on OETA-TV or visit www.sunup.okstate.edu. (Photo courtesy of Todd Johnson)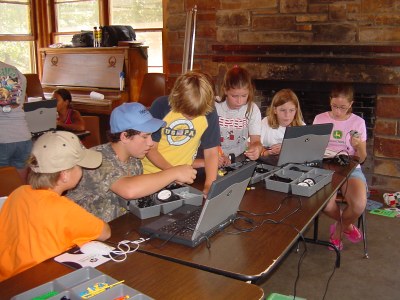 Osage County 4-H members put their brains and creativity to work during a 2005 robot workshop in Osage Hills State Park. (Photo courtesy of Osage County Extension)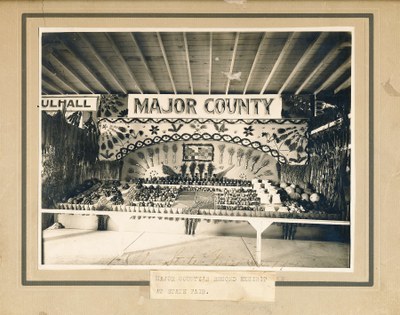 Major County put on a major display back in the day at the Oklahoma State Fair. This is the elaborate exhibit enjoyed by spectators at the 1910 fair. (Photo courtesy of Major County Extension)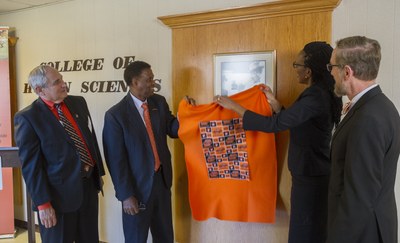 Representatives of OSU and Langston University unveiled a framed photo of Annie Peters Hunter, the first federally appointed black female Extension home demonstration agent. Peters Hunter operated in Okfuskee County from 1912 to 1925. The picture is prominently displayed in a well-traveled hallway in OSU's College of Human Sciences building. Pictured from left to right: James Trapp, associate director of Extension at OSU, Claud Evans, veterinarian and former Oklahoma A&M regent, Precious Elmore, director of the OSU Office of Multicultural Affairs, and Stephen Wilson, dean of the College of Human Sciences at OSU. (Photo by Todd Johnson)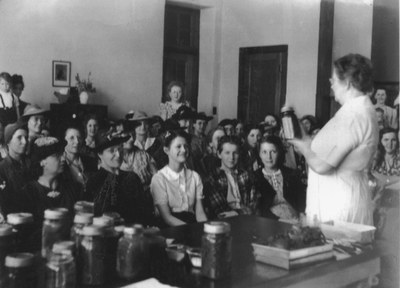 Blaine County Home Demonstration Agent Martha McPheter leads 80 leaders and members in an early 1940s canning and food preservation training meeting in the Watonga High School home economics laboratory. Women were hired as Extension home demonstration agents in Oklahoma beginning in 1912 to create girls' canning clubs. The clubs were highly popular throughout the state and annually attracted thousands of young girls. This photo was included as part of Blaine County's 1941 Narrative Annual Report. (Photo courtesy of Blaine County Extension)
On the night of Aug. 6, 1914, a fire destroyed Morrill Hall on the Oklahoma A&M campus in Stillwater, including 32 mail sacks full of records of the dean, experiment station and Extension Service. In an unfortunate turn of events, those records were moved to Morrill Hall just days before the disaster. (OSU Agricultural Communications Services)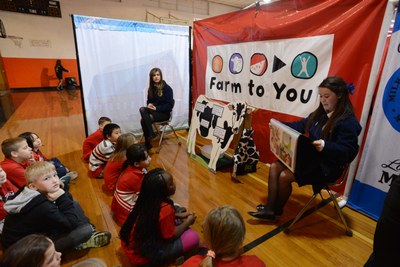 As part of the highly interactive Farm to You traveling exhibit, elementary school-aged children wind through nine stations following food from the farm to the market and through their bodies. A fun way to teach kids about the connection between agriculture, food and their health, the program is coordinated by Oklahoma Cooperative Extension, and has journeyed to 72 of Oklahoma's 77 counties since it began in 2008. Farm to You earned the 2010 Dr. Rodney Huey Memorial Champion of Oklahoma Health award, the highest honor of the Champions of Health awards, which recognizes organizations and individuals making an impact on the health of Oklahomans through innovative programs and fresh approaches to health and wellness. (Photo by Todd Johnson)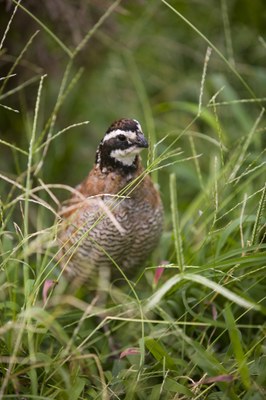 With Northern bobwhite quail populations in Oklahoma declining by an average of 1.5 percent each year for the past 50 years, OSU researchers are trying to determine where the state's bobwhites have gone with the help of a six-year, $2.7 million grant from the Oklahoma Department of Wildlife Conservation. The research, which is being conducted at the Packsaddle and Beaver River wildlife management areas in northwestern Oklahoma, will continue through the summer of 2017.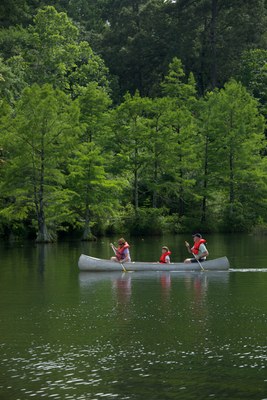 Oklahoma's thriving forestry industry is primarily located in the state's far Southeast corner near Broken Bow. The area's loblolly pine and hardwood forests not only provide plenty of recreational fun, but also are managed for timber and paper pulp.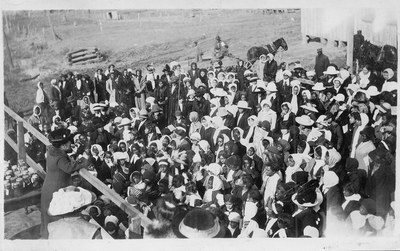 On February 13, 1913, Mrs. T.M. Jeffords discussed canning club work during a demonstration train stop in Boley, Oklahoma. The first female Extension home demonstration agents in the state were employed beginning in 1912 to help supervise growing and canning tomatoes. At that time, more than 3,500 girls were enrolled in canning clubs. (OSU Agricultural Communications Services)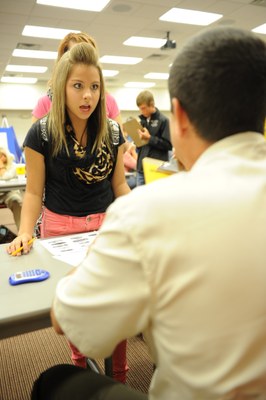 A high school student in Wayne, Oklahoma, gets a crash course on money management through Reality Check, a financial learning simulation role playing activity. The simulation is offered through local county Extension offices. Participants take on virtual family statuses and jobs with corresponding salaries and are challenged to make decisions on housing, transportation, utilities, food, entertainment and health care along with the occasional bump in the road like a broken appliances or other financial emergency.
(OSU Agricultural Communications Services)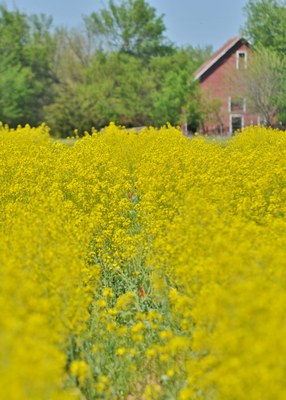 Oklahoma producers continue to commit an increasing number of acres to canola. Recent estimates indicate approximately 400,000 all-purpose acres have been planted across the state. OSU data suggest that wheat following canola in a crop rotation can increase wheat forage by 20 percent and wheat tillers by 32 percent, both of which would favor stocker cattle operations. OSU data also suggest that wheat following canola can increase wheat grain yields by 10 percent to 15 percent. (OSU Agricultural Communications Services)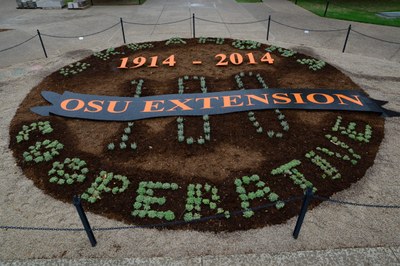 Extension marks 100 years of service to Oklahomans with a centennial garden of bright blooms that will beautify the OSU Stillwater campus this spring.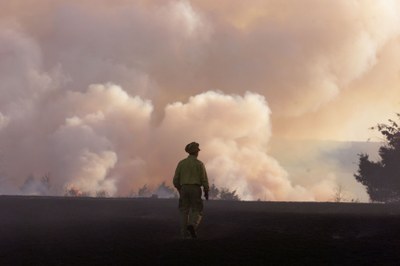 Through prescribed burning, native plant communities can be restored and maintained to their former diversity and productivity for livestock production and wildlife habitat. "Fire exclusion and fire suppression had been engrained in our society for years and popularized by the very successful Smokey the Bear ad campaign," said Terry Bidwell, Natural Resource Ecology and Management professor and OSU Extension rangeland ecology and management specialist. "The results of which has been a rapid decline in the quality of our natural resources, along with costing taxpayers millions of dollars each year to fight wildfires and the many other negative consequences of fuel build up." (OSU Agricultural Communications Services)
During the 2014 Oklahoma Cooperative Extension Service (OCES) Conference, employees gathered near the Edmon Low Library lawn on OSU's main campus in Stillwater to take a photo for the centennial time capsule. There are about 600 OCES employees, including approximately 350 who serve through county, area or district offices, and about 250 who are based on the university's main campus in Stillwater. (Todd Johnson, OSU Agricultural Communications Services)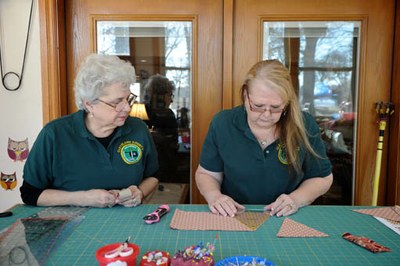 Oklahoma Home and Community Education (OHCE) members in Cleveland County work on a quilt that will be raffled off at the annual quilt show held at the Cleveland County Fair Grounds May 9-10. The annual event funds the three $1,500 scholarships for graduating seniors in the county and provides member scholarships for educational classes. (OSU Agricultural Communications Services)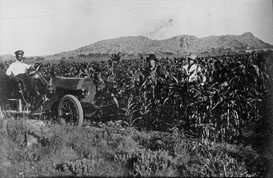 C.H. Pinkley, Extension agent in Kiowa County, used an automobile to visit producers in the summer of 1909. This was the first automobile used in demonstration work in Oklahoma. Pinkley's auto drew some complaints from producers, including scaring their horses. (Source: Early History of Farmers' Cooperative Demonstration World in Northwest Texas and Oklahoma, W.D. Bentley)